Watch: Hajia Bintu shoots skit with Mr. Macaroni, 'scams' him of N15m in Lagos (Video)
Hajia Bintu in Nigeria shooting skits with Mr. Macaroni
Hajia Bintu Hanging out with CEO of Mavin Records, Don Jazzy
Hajia Bintu, a Ghanaian socialite, wrote about her first visit to Lagos, Nigeria's commercial hub, in August.
During her vacation, she disclosed on Twitter that she met with popular comedian Mr. Macaroni and Don Jazzy, the CEO of Mavin Music.
Two weeks later, it appears that the objective of her visit was to film a skit with Macaroni.
On Monday, September 5, the comedian shared the piece on his social media accounts. On Facebook, it was headlined "Hajia Bintu From Ghana Vs Mr Macaroni" while on Twitter, it was labelled "Daddy Wa Relocating to Ghana."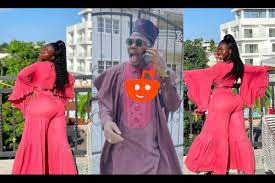 The video depicts Macaroni attempting to woo Hajia Bintu, whom he met on the corridor of a hotel where she had gone to meet an associate who was planning to relocate to Ghana.
As is typical of Macaroni, he transforms into a Kente-clad 'Ghanaian' known as Nana Kwame Nkrumah as he tries to persuade Bintu that he is the man she seeks.
All of his zeal vanished when he learned of the transaction's monetary implications. He makes the cash but soon finds it was a hoax – Bintu and a friend had misled him.
Watch the video below:
CHECK ALSO: Ghanaian musician, Kwabena Kwabena announces release date for his new album
Watch the latest episode of The Lowdown below: