Ebony Reigns and Terry Bonchaka remembered in Virgil Abloh song by Jay Bahd
Terry Bonchaka and Ebony Reigns, two late popular musicians, are remembered in one of the verses of Jay Bahd's tribute song to American celebrity fashion designer, Virgil Abloh, who died on November 28th, 2021.
Terry Bonchaka was a Ghanaian Hip-Life Dancehall musician with a unique way of singing and a unique way of drawing crowds on stage with his own fabricated dance style, one of which was to lift one leg jumping forward while dancing, until his unfortunate demise in a car accident that  occurred on October 29, 2003, at  the Tetteh Quarshie Interchange, soon after he began receiving media attention.
Ebony Reigns was a young beautiful thick lady with a unique stage craft that many criticised until her death, which sadly occurred.
Ebony Reigns was also a young beautiful thick lady with a unique stage craft with her own way of dressing that many had criticised her of her her outfit on stage. Sadly in 2018 death came to turn bashing into sympathy when she was involved in a car accident in which her friend and an army officer also died.
The two artistes we yougsters with Terry Bonchaka at the age of 21 and Ebony 19 years of age.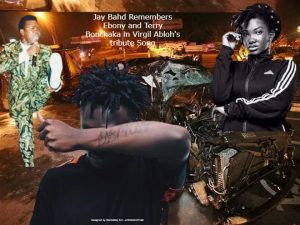 Source: ZackGh.com

Thank you for reading this post, don't forget to subscribe! If you have any music, content or products or services you wish to advertise on ZackGh.com or ZackNation then get in touch with us on this number +233246722883 or +233246187160 or you can use the WhatsApp button below.
NOTE: Please take note that the above numbers are currently our official numbers, so please don't contact any other number other than the numbers above, Thank You.
We are also into social media handling, if you have a social media page that you cannot handle it yourself or you need more followers, likes, views for your handle, page or YouTube Watch Hours, subcribers, or views; If you need someone to do that for you just get in touch.
#Sarkodie #ShattaWale #Stonebwoy #Entertainment #Sports #News #Celebrity #CelebritiesLifestyle Ghana Download Mp3 download GhanaWeb Google TikTok Facebook Coronavirus Twitter Weather Jackie Appiah