Fuse ODG dashes Ghc1000 to a fan who danced to Feli Nuna's new song with his wife's towel in a video #Towelchallenge
Ghanaian Afrobeat-Reggae-Dancehall music composer based in the United Kingdom, has given 1000 Ghana to a Twitter follower who shared a video of him hilariously dancing to Feli Nuna's latest song, "Towel".
Nana Richard Abiona, better known by his stage name Fuse ODG, is a British-Ghanaian singer and rapper who decided to challenge his fans to share an interesting video of themselves in a towel while vibing to Feli Nuna's new song "Towel" and win 1000 Ghana cedis out of the 10,000 Ghana cedis he is giving away, check out his post below: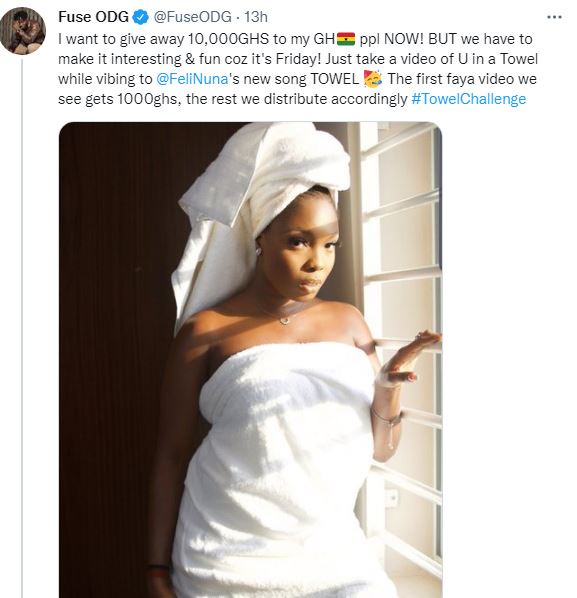 "I want to give away 10,000GHS to my GHppl NOW! BUT we have to make it interesting & fun coz it's Friday! Just take a video of U in a Towel while vibing to @FeliNuna's new song TOWELThe first faya video we see gets 1000ghs, the rest we distribute accordingly #TowelChallenge".
A twitter user named "Mr Man" won the Ghc1000 prize after sharing a video of himself dancing, which elicited laughter emojis in the comment section below ODG's giveaway post; watch the video below:
@FuseODG @SammyBlacck @sdkdele @nydjlive @sarkodie @kwadwosheldon @FeliNuna #TowelChallenge accepted pic.twitter.com/08Asr494IH

— #MindyourBusinez (@Mr_Man_O) May 13, 2022
After being bashed by some netizens claiming he used his wife's towel to shoot the video, shared a snapshot to cofirm he has been sent the 1000 by rapper Fuse ODG. check it out below: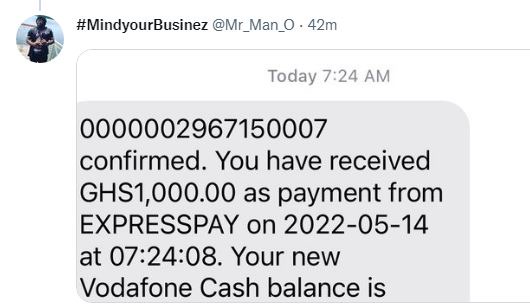 — #MindyourBusinez (@Mr_Man_O) May 14, 2022