Popular Ghanaian Dj, Andy Dosty shares a story of his involvement in a deadly accident a year ago
Popular Ghanaian Dj, Andy Dosty marks a year of his involvement in a deadly car accident
Andy Dosty, a Ghanaian journalist and musician, recounts an accident he was involved in one year ago today. He remembered it being around 7 p.m., and he was working out at a gym in Dzorwulu, a suburb of Accra's capital city.
He had to leave because he received a call that his daughter was very sick, when he was about 400 metres from the gym he heard a loud bang at the back of his car, which pushed him off the road and into a large gutter.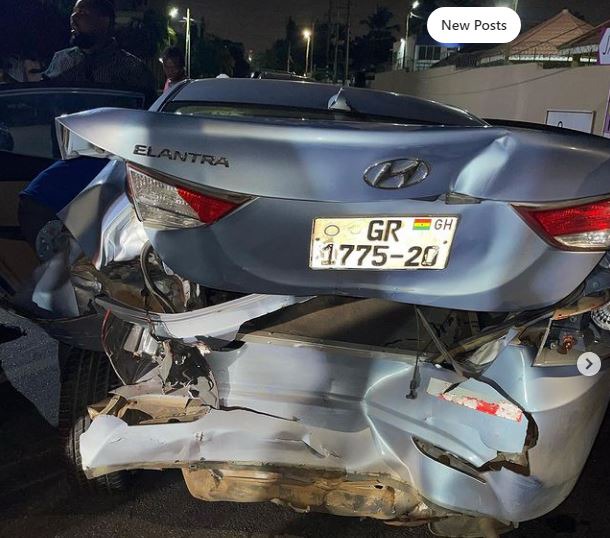 He was able to keep the steering under control, but two tyres were blown out.
He was alone and secured in his seat, according to the renowned Ghanaian disc jockey. Two airbags in the car that hit him, however, had exploded, and the bonnet had been damaged. Two gentlemen were in the car, and they thankfully survived. Andy was then taken to the hospital, where he was admitted and soon discharged.
One careless driver nearly killed one of Ghana's best and brightest journalists. Andy Dosty, who took to social media to thank God for his life, recalled his involvement in a fatal accident that he survived.
Take a look at his post below:
"A year today around Dzorwulu, at about 7pm i was at a gym getting my six packs. I had a call that my daughter was very sick so I had to leave. Just about 400 meters away from the gym, I heard a loud bang at the rear of my car, skidding me off the road towards a big gutter. I managed to control the steer but ended up with two bursted tyres. Thank God I was alone and strapped with my seatbelt. The over speeding vehicle that hit me had two of its airbags bursted and the bonnet damaged. There were two gentlemen in the car, thankfully they survived. I was rushed to the hospital and got detained. I was discharged later. Subsequent tests proved that I wasn't hurt BUT my Numark NS7iii controller that was in the trunk of my car got completely destroyed. I thank God for the gift of life. I praise His holy name. Amen!"
Popular Ghanaian presenter, Andy Dosty shares a story of his involvement in a deadly accident a year ago Popular Ghanaian Dj, Andy Dosty shares a story of his involvement in a deadly accident a year ago Popular Ghanaian Dj, Andy Dosty shares a story of his involvement in a deadly accident a year ago

Thank you for reading this post, don't forget to subscribe! If you have any music, content or products or services you wish to advertise on ZackGh.com or ZackNation then get in touch with us on this number +233246722883 or +233246187160 or you can use the WhatsApp button below.
NOTE: Please take note that the above numbers are currently our official numbers, so please don't contact any other number other than the numbers above, Thank You.
We are also into social media handling, if you have a social media page that you cannot handle it yourself or you need more followers, likes, views for your handle, page or YouTube Watch Hours, subcribers, or views; If you need someone to do that for you just get in touch.
#Sarkodie #ShattaWale #Stonebwoy #Entertainment #Sports #News #Celebrity #CelebritiesLifestyle Ghana Download Mp3 download GhanaWeb Google TikTok Facebook Coronavirus Twitter Weather Jackie Appiah