A Plus and Feli Nuna insult each other on live television #UnitedShowbiz
A Plus and Feli Nuna disrespect each other with insults on live Tv show, United Showbiz on United Television.
Ghanaian musician and politician, A Plus and Feli Nuna, a female Ghanaian singer and the "Towel" hitmaker, have both defiled themselves on live television as they insult themselves.
It all started when the topic of record label executives or managers taking advantage of female musicians by requesting to sleep with them before sponsoring or supporting them to bring their star to the forefront came up.
CEO of Ghanaian record label BullHaus Entertainment and the manager of Ghanaian dancehall artiste Shatta Wale, Bulldog, now Bullgod, claimed, as usual, that there's nothing wrong with a man sleeping with a female artiste before investing in her music career.
A Plus expressed his full support for him and stated that it is a give-and-take situation.
Nuna responded affirmatively when he asked if she had a boyfriend.
A Plus stated that if her boyfriend does not invest in her music, she will have no grounds to complain if she asks someone else for money in exchange for s*x.
Feli Nuna retorted that her boyfriend has no bearing on her professional life.
A plus was given.
According to A Plus, Feli Nuna's boyfriend is wealthy, but he refuses to support her music, so she went to someone for sponsorship, and the person said he likes her, and she became enraged, asking why the person said he loves her. A Plus added "If your boyfriend has money and refuses to invest in you, he is a forked guy,".
This did not sit well with Feli Nuna, who claimed that what A Plus is saying is illogical and that her poet boyfriend is more sensible than A Plus.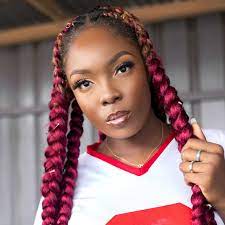 "My boy is a poet, and he's more sensible than you," Feli Nuna tells A Plus.
This has sparked mixed reactions on social media, with some accusing A Plus of bullying a woman on a live TV show while others accuse Feli Nuna of being disrespectful to the elderly musician. Watch the video and some reactions below and share your thoughts in the comments section: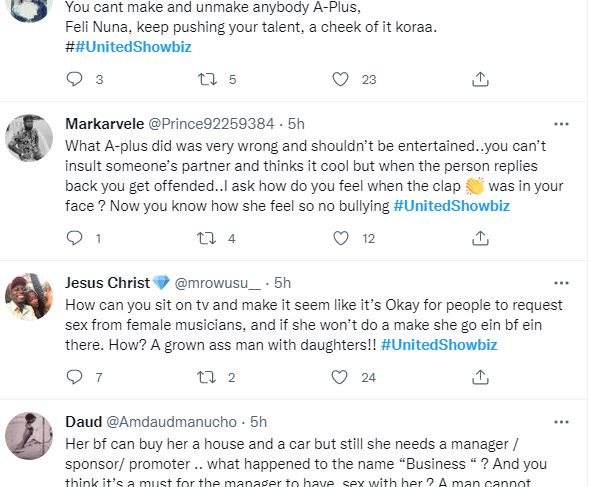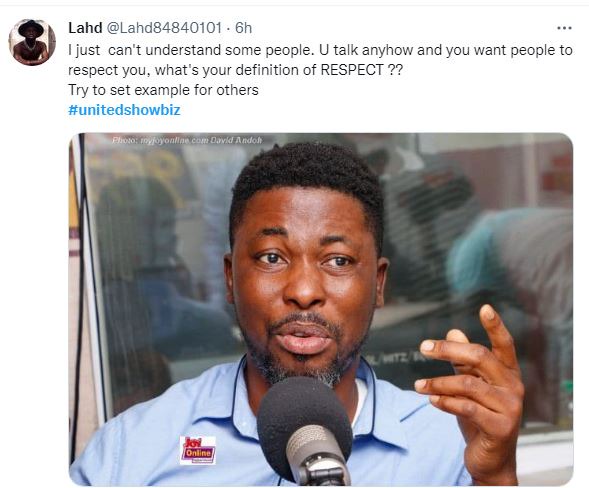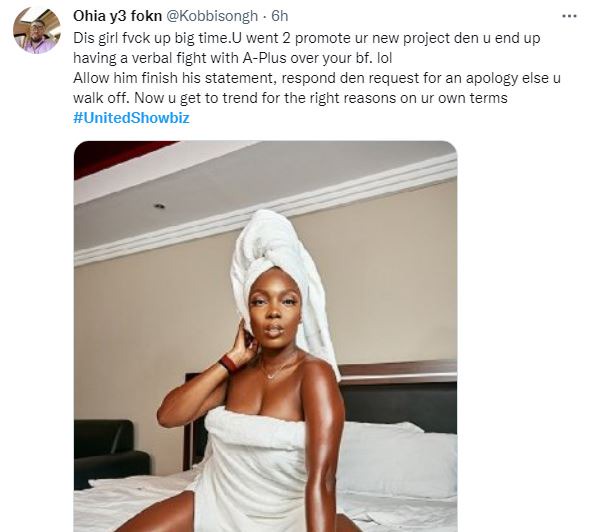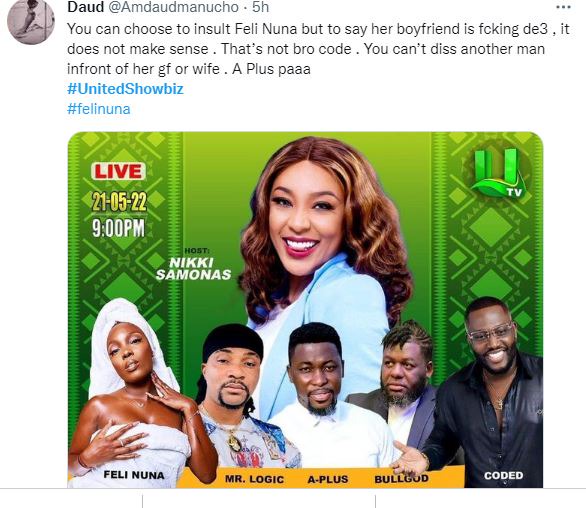 Source: ZackGh.com
A Plus and Feli Nuna insult each other on live television #UnitedShowbiz