Chartered Accountant during the week and a Rabbit Farmer on weekends – Ghanaian accountant shares motivational story
Leslie Kay, a young Ghanaian chartered accountant, relates his story of how he he grew interested in rabbit farming since infancy and, despite graduating as a chartered accountant, continues to breed bunnies part-time.
Leslie began raising rabbits when he was in class five at an elementary school in Ghana, according to him.
"I started rearing rabbits a long time ago, and around class five, I bought one rabbit, but we have a very wild dog in our house, so I couldn't keep it with me, so I sent it to a friend for a long time," he explained. "But after a while, this friend of mine told me that my rabbit was dead, so I went on vacation to my grandmother's place and picked up a new one there," he added.dutch
Rabbit farming was something he enjoyed doing; at first, it was always a friend who was rearing the rabbits, and he would spend a lot of time feeding them. It was there that he developed a fondness for these creatures.
He was so fond of bunnies that when he was in SHS, he sent one to school, where his classmates noticed him and dubbed him 'adanko,' which means "Rabbit" in Akan or Twi.
In an interview with MultiCDB, he disclosed that he now has a higher number of rabbits that he grows for both commercial and domestic purposes.
"People would come all the way from Tema to buy my rabbits, and youngsters would come and buy some of the smaller ones, and it reached to the point where a man would come here and buy six bunnies when I had approximately seventy."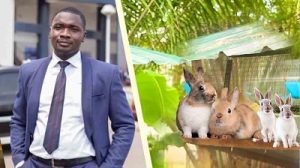 Leslie advertises his bunny on Twitter, Facebook, and WhatsApp, among other social media platforms.
Rabbits are so important that the skin is used as wool, and the flesh provides nutrition. We have a variety of rabbits, including New Zealand White, California, and Dutch rabbits.
He claims that his rabbits breed in five to six months and can produce six babies on average.
You can establish a rabbit farm if you have a heart for animals and a small amount of money, he noted.
Watch full interview
Source : Multicdb
Rabbit Farmer on weekends – Ghanaian accountant Rabbit Farmer on weekends – Ghanaian accountant

Thank you for reading this post, don't forget to subscribe! If you have any music, content or products or services you wish to advertise on ZackGh.com or ZackNation then get in touch with us on this number +233246722883 or +233246187160 or you can use the WhatsApp button below.
NOTE: Please take note that the above numbers are currently our official numbers, so please don't contact any other number other than the numbers above, Thank You.
We are also into social media handling, if you have a social media page that you cannot handle it yourself or you need more followers, likes, views for your handle, page or YouTube Watch Hours, subcribers, or views; If you need someone to do that for you just get in touch.
#Sarkodie #ShattaWale #Stonebwoy #Entertainment #Sports #News #Celebrity #CelebritiesLifestyle Ghana Download Mp3 download GhanaWeb Google TikTok Facebook Coronavirus Twitter Weather Jackie Appiah